Building Resilience In Mount Kenya
This time last week, myself and some courageous climbing buddies summited 4985m to point Lenana on Mount Kenya. It was a fabulous experience but not without its challenges...
Our roller coaster journey prompted thoughts about one of our most popular topics at Beyond the Barriers – Building Resilience.
We commenced our journey on 2nd June, all of us full of anticipation and excitement for the adventure that lay ahead. June is meant to the be start of the dry season but not more than 30 minutes into our trek the thunder struck and the heavens opened! This was a sign of things to come, and for the next 5 days it was pretty relentless, with us arriving at camp each afternoon with what looked like a river running through it- there was a real danger of a sense of humour failure within the group!
Positivity
But the team were amazing and when I think of the critical characteristics of a resilient performer, positivity is right up there. Being able to see the positive in a situation, maintaining a positive attitude,  looking for opportunities and the ability to transform an adverse situation into a positive one.
We couldn't control the weather but we could control our attitude and we chose to see the funny side, how ridiculous we looked in our wet weather gear, ponchos and umbrellas half way up a mountain in Kenya! It was a great opportunity to shelter in our mess tent and play a very competitive game of cards.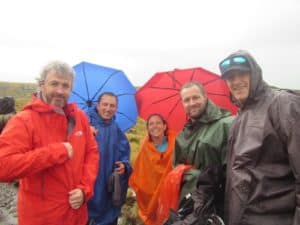 Focussed on the goal
Having arrived at the water drenched camp on day 2 and being told by our head guide that we may not be able to continue because of the floods and our attempt at the summit might therefore be jeopardised, spirits were dampened. However no one was about to give up, it wasn't even discussed, we were all quietly focused on the goal and unless it was physically impossible to traverse the next valley the following day we would continue our journey.
At times like this it's important to count your blessings, so the next day there was a brief celebration when the clouds parted and the sun poked its head out for 15 minutes and we saw the peak of the mountain that we were heading towards. A fabulous reminder of why the struggle was going to be worth it.
Support Network
As we ascended some members of the team started to suffer with altitude sickness and others were beginning to fatigue, we did a fabulous job of rallying round as a team and supporting each other. No one judged or criticised anyone, we just offered encouragement, humour (crucial in helping to lighten the mood) and some even went truly above and beyond the duties of a team and did foot massages! (On unwashed, achy, damp feet!)
A support network is an essential source of resilience, we all need people we can rely on, who we can reach out to in challenging times. The most resilient people work hard to reinforce relationships because they know that a support network is what protects you from the detrimental effects of stress and pressure.
Adversity and Perseverance
We arrived at Shipton's Camp, for the final night before our summit and were delighted to hear the tale of an American lady who had successfully summited that morning. This boosted our conviction that we could fulfil our mission. But it was short lived…. no one sleeps particularly well at altitude and every time I woke that night I could hear the rain lashing down on our tent. We were at 4200m, so at the summit it was highly likely to be snowing. We awoke at 2.15am ready for the final climb, only to be told to go back to sleep until 4am to wait for the rain to stop. At 4am we were told to wait until 6am, at which point we were advised that the summit attempt had to be aborted due to dangerous conditions on the mountain. In fact there was 3ft of snow at the summit and the final scramble to the peak wouldn't be possible. We were devastated but not ready to abandon our mission yet.
The rain finally cleared about mid-morning and we decided to go on an 'acclimatisation walk' up the mountain, it was billed as this but everyone in the group was secretly hoping the weather and conditions would permit us to reach the summit. But after 3 hours our lead guide advised us to stop and return to the camp, a storm was forecast for that afternoon and the conditions were becoming treacherous, as rain turned to snow. We were now at 4700m, just 285m from the summit. We were agonisingly close to our destination and there was much debate about what to do but we reluctantly followed the sensible advice of our guide and abandoned our summit attempt. As much as I wanted to reach the peak, it wouldn't be at all costs, safety had to come first.
Yes resilience is about perseverance and determination but it's also about having the presence of mind and clarity of thought to make sensible decisions in the heat of the moment. Experience also tells me that setbacks and obstacles are unavoidable landmarks and usually mean that you're on the standard path to success. We had to abort, but in my mind it still wasn't over, we had 48 hours until our flight home from Nairobi, surely we could change our return route and still have time for another attempt the following morning.
Back at camp there was much discussion about what to do next, should we try again? Could we try again? Would the weather permit us? We had just spent a gruelling 4 hours on the mountain, people were tired, we'd been up on an off since 2.15am and some were suffering with the altitude, but once again we reminded ourselves of our goal, why we all signed up for the challenge – to reach the peak of Mount Kenya and conquer not only the mountain but ourselves too. How would we feel if we returned home having not tried again? We agreed that if the weather was good at 3am we would make another attempt. I went to bed full of hope, praying to the weather Gods!
The Summit
3am arrived and it was the clearest night we had seen yet, the stars were out, even the Milky Way was visible! We set off in the dark, bleary eyed and a little weary from the previous day, but highly motivated to put one foot in front of the other and take it step by step. 3 hours later we were 200m from the summit and the sun was rising, giving way to the most astonishing views.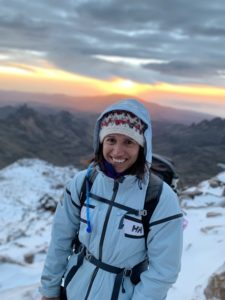 At 6.55am our team of 8 plus 4 mountain guides had scrambled to the peak of point Lenana and were rewarded with the greatest feeling of fulfilment and sense of achievement along with spectacular scenery. It had been a challenging journey, but nothing worth achieving was ever easy and we will all be more resilient for it!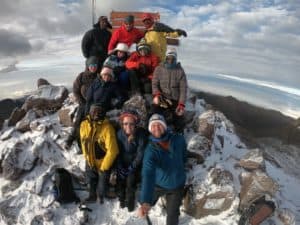 For more information on our Resilience programmes please visit our resilience section or contact us